Security Systems for Commercial Offices
Investing in a security system for commercial offices is a must in today's society. There are many different office security systems options to protect your office and keep your employees safe.
The main precautions responsible businesses can take are installing CCTV cameras, access control, and external gates and barriers. Commercial security systems are an important investment for protecting valuable equipment in offices, and it is important to choose a company that knows what they are doing, so you get a cost-effective and fit-for-purpose solution.
Unison Supply & Install Office Security
Unison supply, maintain and install a variety of CCTV cameras, vehicle barriers, automatic gates, access control and more to corporate offices in the West Midlands and throughout the UK.
CCTV Installation
A CCTV installation is the most popular choice when it comes to office security. Cameras installed in prominent areas are an excellent deterrent against criminal activity, the more visible the better.  In the case that any vandalism or criminal activity does occur, stored CCTV footage can be submitted to the police to investigate the crime and hopefully catch the perpetrators. It also helps employees and visitors to the premises to feel safe in their environment.
Today, CCTV systems are much more sophisticated and make use of cloud-based technology avoiding the need for bulky on-site systems. You can even see live feeds from your phone for ultimate practicality.
Gates and Barriers
Fitting gates and barriers, either manual or automatic and an excellent way to visually fence off your office environment. This is especially useful when looking into the safety of vehicles in the office car park or people gaining unauthorised access to the building. Automatic gates will have a higher upfront installation cost, but they do have a much better user experience.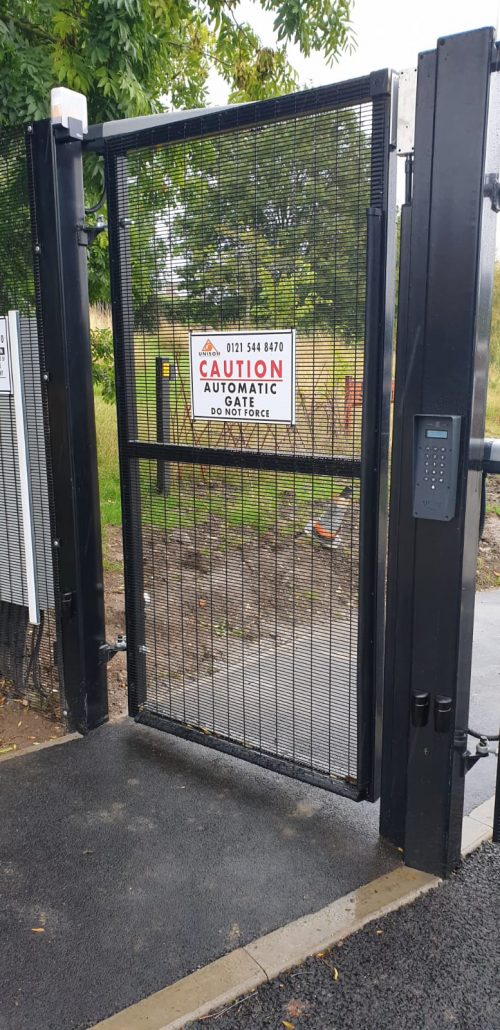 Access Control
Access control systems involve using a fob or code to gain entry access to a building or room. This is excellent to restrict access to important areas and ensure you can track who enters and exits the building. It gives employees better confidence in feeling safe at work, without the risk of something happening to them. Different access levels can be set for different employees e.g., a receptionist having access to the front building, but a manager and senior staff being the only ones having access to their own office etc.
Get a Quote Today
Office security systems are a good investment for every business, and the decision should not be taken lightly. Speak to Unison today to get a free quote to suit your business requirements.