Benefits of Access Control Systems
Access control systems is the perfect security system that enables you to monitor and track those entering and leaving your premises. Access control gives you the opportunity to monitor who enters and leaves and at what times.
There are many great benefits to installing an access control system for your business including increased security. In this article we will discuss the best extras that come alongside access control.
Access control systems enable facilitate protection
Access control systems only allow those who are authorised to enter a building. Approved people usually have a unique code, key fob, or card etc that grants them access to the building. By implementing an access control system, it ensures that anyone who isn't meant to be on site, cant access areas of the building that require a pass. This is beneficial as it means that those working are protected from anyone unauthorised wondering around.
Additionally, it works well for employers as you can restrict access to the building – for example some employees may only have front door access on their key fob whereas other staff may be able to access restricted areas in the building. Essentially you are able to tailor you access system to work in specific ways for different people.
Highly flexibly access
Another great benefit of access control is that they can easily be changed or disabled. So, if someone was to lose their access card/fob, as soon as it is reported, it can be disabled so it no longer works. This is also useful for catching those who are trying to gain entry to the building under false pretences.
Furthermore, unlike the traditional key, if lost, it can be easily replaced for the same job/purpose in minutes.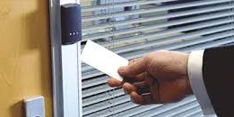 Monitoring the flow of people
Another great benefit includes being able to see who exactly is in the building and who isn't. You can also monitor what time people left and entered the building, being a great help in case of a fire or health and safety emergency.
Additionally access control systems make life easier for your security staff as there will be no chance of someone slipping through the cracks unauthorised.
Makes employees feel safer
To ensure you can maintain a productive workforce, you must accommodate a secure working environment so that staff feel safe. By having an access control system in place, it ensures to staff that those entering the building are approved which inevitably offers peace of mind that their working environment is a safe one.

Unison for your Access Control System
At Unison we offer access control systems to our clients in a wide range of different ways so that it suits individual business needs. No matter the size of your building, installing an access control system is the best way to enhance the security of your site.
We offer access control cards, door entry systems, intercoms and monitors so whatever your preference is, we have the right one for you.
If you are interested in having an access control system installed on your premises, get in touch with us today!