INTERCOM SYSTEMS & MONITORS FOR BUSINESSES
Unison is one of the leading suppliers and installers of intercom systems and monitors for businesses offering everything from simple intercom access control to complete solutions enabling remote voice and unlocking features.
What is an intercom system?
An intercom in a business is similar to the standard intercom system that you see in residential flats or houses. An intercom operates a two-way communication system via either audio or audio and video technology. If you imagine that someone wants to enter your work area, using an intercom will allow you to see who is at the door and then, using Unison's smart systems, allow you to open the gate. We also supply monitors for your intercom which allows you to view who's coming in on top of speaking them through an audio system.
We now supply wireless intercom systems. A wireless intercom system allows voice communication without the need to run wires between intercom stations. This means that the intercom can be answered by anyone in the office and viewed wherever.
How does an Intercom work with my door entry system?
Your door entry system will be installed with the purpose of limiting access to your workplace. An intercom works very well alongside the other features of your door entry system as it maximises security and provides another barrier for non-employees to enter the office.
At Unison, our Intercoms are produced with metal panels and electroplated anti-vandal casings for high security and are surface-mounted and all designed to be waterproof and dustproof allowing them to be used in any environment.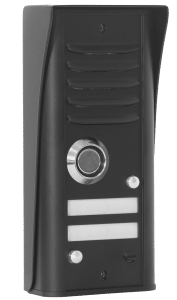 Ready to find out more?
For a free no obligation quote please call us today!
Interested in what you've read? Check out our other access control systems: