COMMERICAL DOOR ENTRY SYSTEMS
Unison is one of the leading suppliers of Door Entry systems in the UK. We have installed over 200 door entry points in Regents College and high-security biometric systems in Hosting company data centres. We supply, install and maintain Access Control Door Entry systems. Whether you wish to have a new Access control system or need assistance with an existing system we can offer the complete service.
What is a Door Entry System?
A door entry system offers protection beyond just a door - it provides a technological barrier to entry into an office, warehouse or place of work. Probably the most common type of door entry system is a keypad with a code that needs to be entered for the door to open. But there are many other types including an intercom, a video intercom, a keycard or fob system or even biometrics. By installing a door entry system in a commercial environment, employers and business owners are providing their building with an extra layer of security.
Why Choose Unison?
 Unison Integrated Technology Ltd. has over 25 years of experience in the security sector. All our staff are DBS checked to ensure that our customers feel safe during the supply, installation and maintenance process. We guarantee the best equipment possible as we work entirely in house. Due to the range of security system equipment we install, we offer competitive prices making us the first choice for many companies. Our door entry systems are second to none.
Contact us today for a free, no-obligation quote!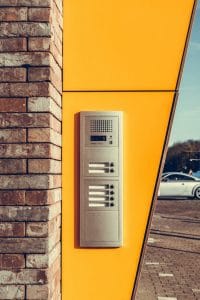 Ready to find out more?
For a free no obligation quote please call us today!
AN EXAMPLE OF OUR DOOR ENTRY INSTALLATION SERVICES:
Interested in what you've read? Check out our other access control systems: