Everything You Should Know About Business Access Control Systems
Business access control systems are a great tool, utilised by many businesses to ensure you maintain effective company security. An access control system refers to the practice of restricting to a property, building or room. Two main types of access control can be used for businesses, physical or electronic.
Physical Access Control
Physical access control involves creating a barrier to prevent unauthorised persons from entering a space. Physical access barriers include a locked door, a turnstile or fencing. Having a barrier in place gives a level of authority to the premises and is at the heart of any good security plan.
Physical security access control visually protects the people and environment, often acting as a deterrent for anyone with bad intentions as well as anyone coming to harm by entering areas that need to be carefully handled.

Electronic Access Control
In the modern world, access control has become more advanced than traditional keys and locks. Electronic access systems are when a card or fob is used to automatically enter or exit a building.
Access control cards can be set up to give access to designated employees during office hours, so you have more control over who enters and exits. The electronic door access system can also be useful to track when employees clock in and out.
In a more complex setup where multiple doors and authority levels are required, the system can be configured to give different permissions e.g. a manager having higher level access than a front desk employee, restricting access to laboratories etc.
You can also set up visitor access cards with access to common areas, with the option to de-activate cards if for whatever reason they are not returned.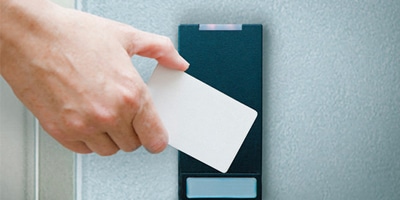 Door Access Control Systems
The latest door access control systems make use of IP or cloud-based systems – using the internet. These can either be a network-based system or web-based.
Choosing a business access control system is not an easy decision with a variety of options available. It's important to go to a trusted organisation who specialise in company security such as Unison. Contact us today to design a fit-for-purpose access control system.