From a straightforward audio control for a single door to a fully integrated multi-site, biometric access control system handling hundreds of doors, Unison Integrated Technology's Access Control line contains solutions for all access control applications.
Unison can design and install the right system to meet your needs using a variety of audio/video entry systems, smart card readers, proximity readers, and biometric access controllers.
Card Access Control Systems
We provide a variety of access control products, including cards, proximity cards, and key fobs. by businesses including Indala, Paxton, and HID.
Whether you employ a standalone access control system or PC-based access control, we can offer replacement cards and fobs at the lowest prices since we buy in bulk.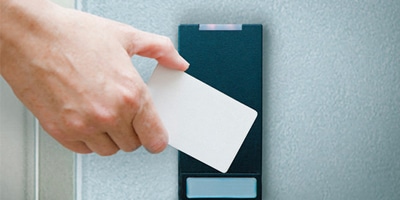 Unison is one of the leading providers of door entry systems in the UK. We installed high-security biometric systems and far more than 200 door access points at Regents College inside the data centres of the Hosting Company. Access Management We deliver, install, and maintain door entry systems. Whether you need assistance with an existing access control system or a new one, we can offer the full spectrum of services.
An office, warehouse, or place of business can be protected with a door entry system that goes beyond simple door protection by creating a technical barrier to entrance. A keypad with a code that must be input for the door to open is perhaps the most typical sort of door entry system. However, there are several other varieties, such as intercoms, video intercoms, keycard or fob systems, and even biometrics. Employers and company owners that operate in commercial settings can increase the security of their facility by implementing a door entry system.
INTERCOM SYSTEMS & MONITORS
A commercial intercom is comparable to the common intercom systems seen in homes and apartments. A two-way communication system is run by an intercom using either audio or audio and video technologies. If you think someone might wish to enter your workspace, you can use an intercom to observe who is at the entrance before employing Unison's sophisticated algorithms to unlock the gate. We can provide monitors for your intercom so you can see who is arriving as well as speak to them via an audio system.
These days, we provide wireless intercom systems. Without running cables between intercom stations, voice communication is possible with a wireless intercom system. This implies that everyone in the office may respond and view the intercom from wherever.
Our Access Control Services