The Access Control range from Unison Integrated Technology has solutions for all access control applications, from a simple acoustic control for a single door to a completely integrated multi-site, fingerprint access control system in Birmingham managing hundreds of doors.
Using a range of audio/video entry systems, smart card readers, proximity readers, and biometric access controllers in Birmingham, Unison can design and install the ideal solution to suit your needs.
Card Access Control Systems Birmingham
Cards, proximity cards, and key fobs are just a few of the access control devices we provide in Birmingham to companies like Indala, Paxton, and HID.
We can provide replacement cards and fobs at the lowest costs since we buy in bulk, regardless of whether you use a freestanding access control system or PC-based access control.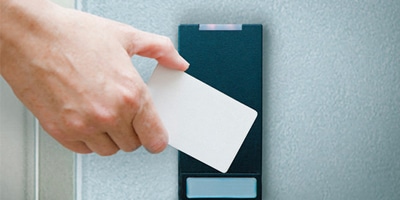 Door Entry Systems in Birmingham
One of the UK's top manufacturers of door entry systems is Unison. At Regents College, we set up more than 200 door entry points, high-security biometric systems, and the Hosting Company's data centres. Access Control Door entry systems are delivered, installed, and maintained by us. We can provide the whole range of services, whether you want help with a brand-new access control system or one that is already installed in the Birmingham area.
A door entry system that creates a technical barrier to access in your Birmingham Property may protect an office, warehouse, or place of business by going beyond basic door protection. Perhaps the most common type of door entry system is a keypad that requires a code to be entered in order for the door to open. There are, however, a number of other variations, including biometrics, video intercoms, keycard or fob systems, and intercoms. By installing a door entry system in Birmingham, employers and business owners that operate in commercial settings may improve the security of their facilities.
INTERCOM SYSTEMS & MONITORS BIRMINGHAM
Comparable to the typical intercoms seen in houses and flats is a commercial intercom. An intercom operates a two-way communication system utilising audio or audio and visual technology. You may utilise an intercom to see who is at the entry before using Unison's smart algorithms to unlock the gate if you believe someone might want to access your office. We can offer monitors for your intercom system so you can see who is arriving and communicate with them using an audio system.
We provide wireless intercom systems these days. Voice communication is feasible with a wireless intercom system without running wires between intercom stations. This suggests that everyone in the office is free to reply or listen in on the intercom from wherever.
Our Access Control Services